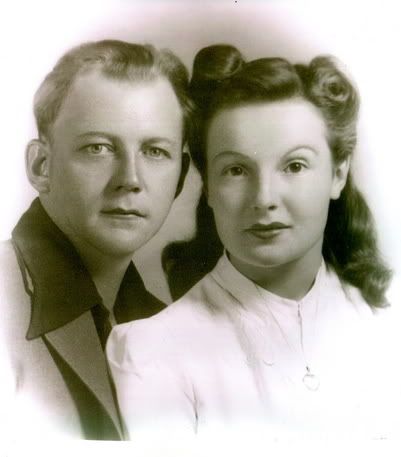 Over on
Echidne of the Snakes,
our goddess has posted
Engagement Rings and Loans For Weddings
, a very thoughtful piece about the high price of today's weddings. The cost of which often could send a child to college or takes money from the parents' retirement money. The comments are a lively discussion of the topic, and it got me think about the most romantic wedding I ever heard of.
This is my parents' wedding picture. They were married in May of 1941. Because my father was divorced, my mother was afraid that Grandpa wouldn't allow them to be married. So, they eloped; my father hired a pilot to fly them from Modesto, California to Carson City, Nevada. The only person they told was my Aunt Flo, and since there was a terrible storm over the mountains that day, which was covered on the radio extensively, she was terrified that they would crash and it would be her fault for keeping the secret. They flew back the same day, and didn't tell anyone they had married for several weeks. Mama would have been expelled from high school had anyone known.*
They were married until my father died, seven years later. Mama went to work, but women in those days earned so little that, even with Aunt Flo living with us and paying half of the bills, Mama couldn't afford to keep Forrest and me with her. He went to a foster home and I went to a Catholic girls' school. Mama didn't start dating until she had to give us up, and she knew that she couldn't afford to get us back without a husband. When Daddy married her she was so broke that she had folded newspaper inside her shoes because she couldn't afford to have the soles repaired.
The entire time Daddy was alive, my father's letters to Mama sat in a box. She didn't read them, because she felt it would have been unfaithful to Daddy. However, since he died, Mama reads one letter a day, when she first gets up. There are pictures of both of her husbands on the wall -- and my father's is the one directly across from her chair.
I wonder how any amount of money in the world could have made for a better wedding or a better marriage.
* I guess that in those days the authorities were afraid that married women would somehow contaminate the innocent girls with stories of wild, abandoned love making. Or something of that sort.