Modesto, where I graduated from high school, is one of the central valley California towns that used to be agricultural and are now bedroom communities for the San Francisco bay area. Like many cities in California, Modesto has an arch over what was once the main road into town with the town motto on it. "Water Wealth Contentment Health" it reads. But, that was actually the second place entry in the 1911 contest which was originally won by "Nobody's Got Modesto's Goat".
Redwood City, where I lived while attending the College of Notre Dame for my Montessori credential, has one that reads "Climate Best by Government Test" which always caused me to wonder what level of government, when, and what the criteria were. I'm certain that the Redwood City Assembly would have been more favorable in this judging than the U. S. Congress. Although, during the time I lived there, Redwood City did, indeed, have a very pleasant climate.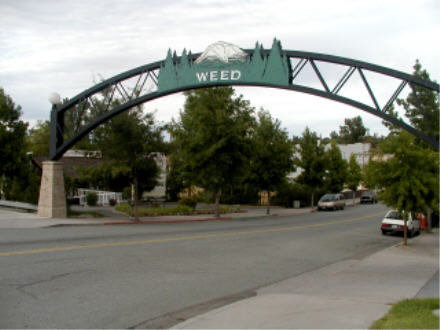 Some welcome arches, like this, simply announce the name of the town. Apparently the good citizens of Weed feel that is sufficient for anyone to know. Here we are, it seems to say, needing no claims or embellishments. Although, why would anyone name a town Weed, do you suppose?
In my misspent youth, I used to wonder if one could score marijuana in Weed, which would make a certain amount of sense.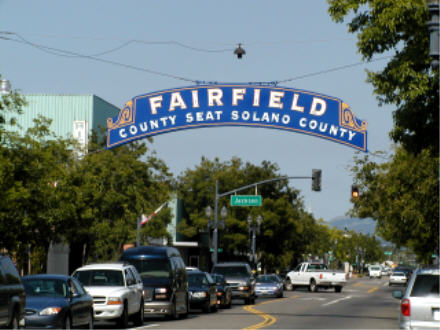 Many, like this one in Fairfield, give you a little more information concerning the status of the community. This is an important town, one imagines, with a courthouse and county offices -- perhaps its own weighing station on the freeway, as other county seats I've known in California have.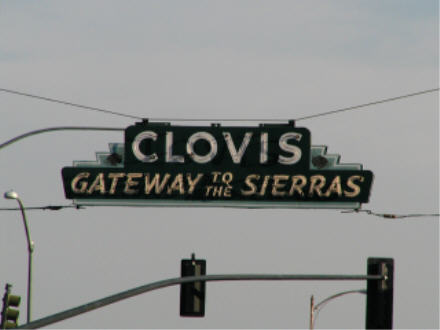 Or its proximity to some place of greater fame. To be the gateway to an entire mountain range is a proud thing. What more could a city wish? Or, what else does Clovis have? It is enough. It declares an identity that the community is proud of, it welcomes visitors, it fulfils its function. Apparently there was a great fad for welcome arches, as they are called, during the beginning of the 20th century. They vary in many ways, going from this rather stark example that isn't really an arch at all,
to the Lodi arch, which is stucco with Spanish tile over the pedestrian gates. After this arch was built, with mission bells in it, the California bear was placed on the top. Very clearly, this arch belongs in California, although so far as I know there were never any Spanish missions in Lodi. It is more of a German community. Lodi, like Weed, feels a need for no embellishments. It is what it is. Here it is being refurbished.
Many are still in a central part of town, but many are like the Fresno arch, which has been left behind and is now in the warehouse district. Fresno, you will notice, claims to be the "Best Little Town in the USA". Again, I have to wonder how that was determined? I know that it is a part of the Central Valley of California, some of the richest agricultural land in the world. They grow raisins in Fresno. In the 60s it, like Modesto, was a place that people wanted to get away from. Too countrified.
They aren't restricted to California. Las Vegas has one, Denver has one, even Ketchikan has one, as you can see from this photo identifying the city as both the salmon capital of the world and Alaska's 1st City (by which they mean, the town furthest south). They were the rage. Communities considered the face that they wanted to present to the world and built an arch to immortalize it. And then, they went out of style and you don't see many new ones anymore.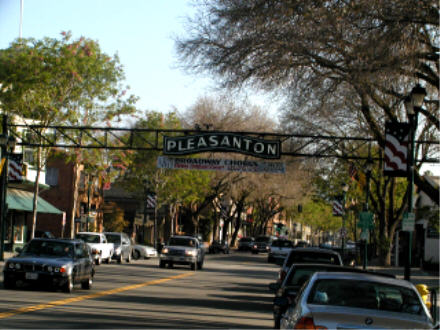 Cherry commented that there is a new arch in Pleasant Hill, which she can't find a picture of and neither can I. However, here is a picture of the Pleasanton arch. The Wikipedia photo shows a banner beneath the arch, but whether there is a motto on it or not I can't tell. However, the town has been known in the past as "The Most Desperate Town in The West," which I don't imagine is on the arch and really wish was.
As long as I'm adding this one, you might as well see the burl arch in Nome, Alaska which is the furthest north welcome arch in the U.S. The arch reads "End of the Iditarod Dog Race" rather than the town motto, "There's No Place Like Nome." One is kind of sorry about that.